The three recipients of this year's College of Liberal Arts & Sciences' Excellence in Teaching Awards find innovative ways to challenge and engage students, including research opportunities, interactive lectures, and real-time projects.
In recognition of their exceptional teaching, Jennifer Munroe, Sarah Pollock and Lane Rhodes have received the Excellence in Teaching Awards for the 2018-2019 academic year.
Munroe, a professor of English, has received the Integration of Undergraduate Teaching and Research Award. Pollock, a lecturer in the Department of Sociology, has received the Award for Outstanding Teaching by a Full-Time Lecturer. Rhodes, an adjunct faculty member in the Department of English, has received the Award for Outstanding Teaching by a Part-Time Faculty Member. They received their awards at a college celebration on April 22 in the Halton Reading Room in J. Murrey Atkins Library.
Integration of Undergraduate Teaching and Research Award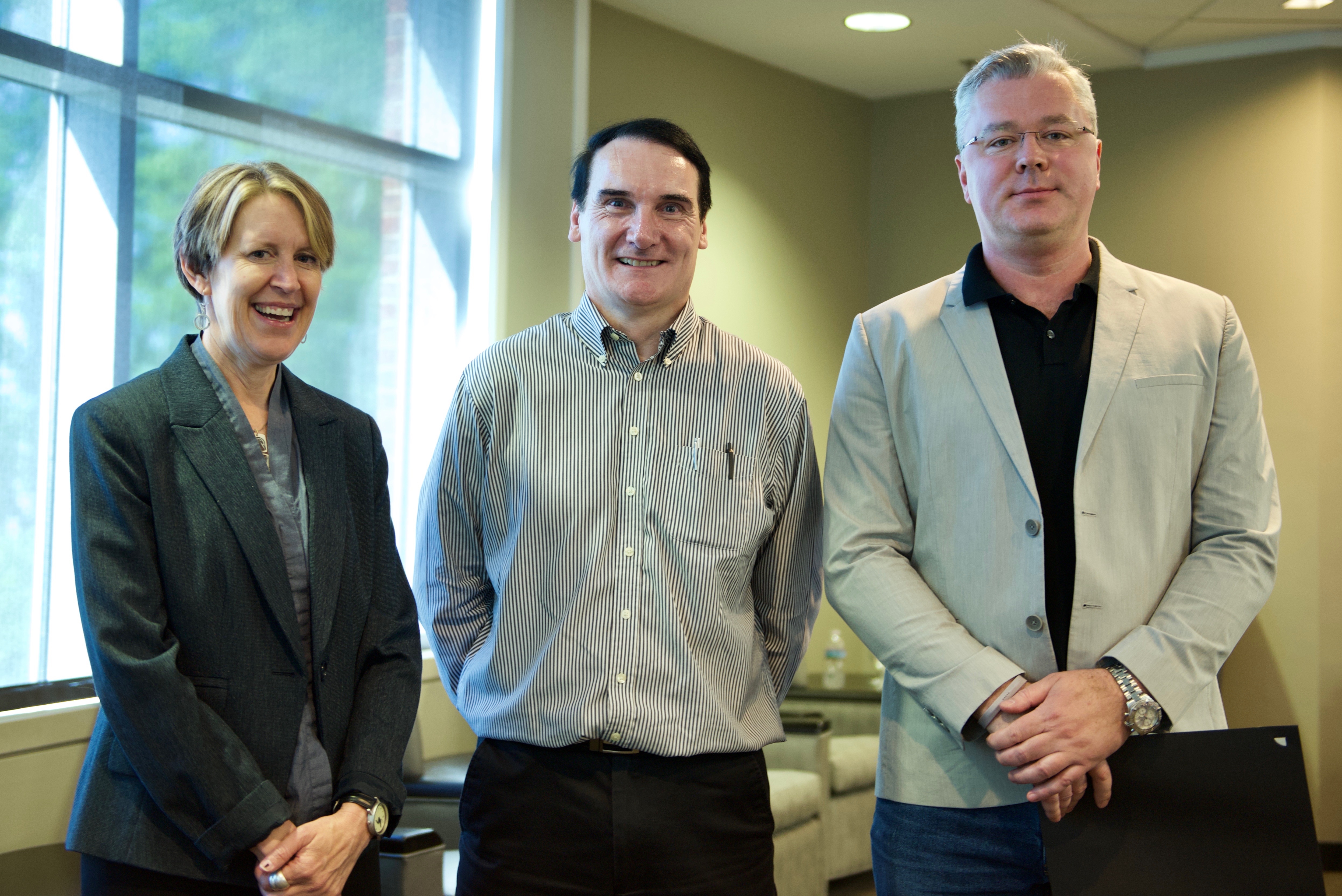 Since her arrival at UNC Charlotte in 2004, Munroe, who was chosen to receive the award, has built an impressive research record in the areas of Shakespeare studies, early modern literature, and eco-criticism, including several monographs and essay collections. She has taught undergraduate and graduate courses on these topics for English, Liberal Studies, the Honors Program and Women's and Gender Studies. Munroe's scholarly investment in ecofeminism and ecological literary studies shape her approach to teaching and the content of her courses at all levels.
"I approach what happens in my classroom (and out) not simply as related to my research; my research stems from a curiosity that I have about ecological and literary questions that I aim to help my students find their own way of asking," Munroe says. "And in so doing, my students literally become active researchers and co-producers of knowledge in their own right."
In particular, she has involved her students in research that led to a co-authored book, Shakespeare and Ecofeminist Theory, with Rebecca Laroche, and to an ongoing digital humanities initiative dedicated to the creation of a public-access database of early modern manuscript recipes in partnership with the Folger Shakespeare Library. She has taken her advanced class students there to workshops related to her courses and to conduct their own original archival research.
This exposure to research has led her students to start an official campus organization, the Early Modern Paleography Society (EMPS), now in its fourth year, dedicated to the transcription and study of early modern manuscript recipes and the study of early modern women's and ecological history. It has also opened doors for some of her students at top graduate institutions in the United States and internationally.
"It is her ability to spark enthusiasm in her students while building a research tool that will revitalize the field that makes Dr. Munroe's teaching so transformative," says Hillary Nunn, a professor of English at the University of Akron and a colleague of Munroe's on the steering committee of the Early Modern Recipes Online Collective. "I cannot think of a scholar who better exemplifies the benefits – to students and to the field more broadly – of involving undergraduates in cutting edge research."
Finalists for the Integration of Undergraduate Teaching and Research Award were Kirill Afonin, an associate professor in the Department of Chemistry and Didier Dréau, an associate professor in the Department of Biological Sciences.
Dréau has taught a wide range of courses at the undergraduate and graduate levels. Many of his courses feature hands-on training of undergraduate students within laboratory settings. Much of his own research, and his laboratory experiences, are highly productive and externally funded, with him generating $1.7 million in funding. His research, which has resulted in more than 60 peer-reviewed publications, is described as inter-disciplinary, consistent, impactful, and impressive.
Chemistry Department Chair Bernadette Donovan-Merkert describes Afonin as one of UNC Charlotte's top researchers. "He is also an effective mentor for students in his research group, and he has developed an innovative course that truly engages students in research and the generation of new knowledge," Donovan-Merkert says. "Kirill sets the bar for the integration of cutting-edge research and undergraduate education."
Award for Outstanding Teaching by a Full-Time Lecturer
Sarah Pollock, who was chosen to receive the award, joined the faculty as a full-time lecturer in the Department of Sociology in fall 2015. She teaches sociology courses that address gender, human sexuality, as well as quantitative analysis. Pollock says she thinks that "…teaching is more than helping students learn the material; it's about developing their critical thinking skills, broadening their perspectives, and challenging them to grow intellectually, morally, and socially."
Pollock's peers and Sociology Department chair Stephanie Moller commend Pollock for her effective teaching.
"Dr. Pollock is in her fourth year on the UNC Charlotte faculty, and she has already left a lasting mark on the department and student culture," Moller says. "She is clearly committed to helping our students become thoughtful and critical sociologists. Dr. Pollock is dedicated to finding innovative strategies to reach her students and keep them engaged, and she is willing to reflect on those strategies to assess what does and does not work."
Pollock uses innovative and effective strategies in the classroom that keep her students engaged. Her teaching style pushes students through the stages of learning.
As one example, Pollock revised one of her courses to further develop students' reading comprehension skills, moving away from reading notes to journal assignments. The new approach enables students to come to class better prepared. They can focus on the main arguments of the readings, and can cultivate their ability to synthesize and apply what they are learning. Class discussions are more nuanced and productive, and students' depth of understanding has improved, as shown by essay questions.
As faculty advisor to the Student Association of Sociology (SAS) and Alpha Kappa Delta and director of the Transfer Student Learning Community, Pollock mentors the student leaders for these organizations, guiding them as they plan professional development workshops, study sessions, volunteer opportunities, fundraising, and critically-engaged movie nights. She has organized and accompanied groups of undergraduate sociology students to the annual meetings of the Southern Sociological Society.
Pollock also supports the broader teaching mission of the Department of Sociology, such as by revamping the laboratory assignments for faculty across the department to use with their quantitative methods courses.
Finalists for the Award for Outstanding Teaching by a Full-Time Lecturer were Tuan Cao, a full-time lecturer in the Biology Department, and Paloma Fernandez Sanchez, a full-time Spanish lecturer in the Department of Languages and Cultural Studies.
Cao is described as an innovative and dedicated teacher. In one class, he has students volunteer with community organizations to apply their biological knowledge in real-life situations and gain a commitment to outreach and service to others. Since 2016, students have contributed almost 3,000 hours of service to nonprofit organizations such as Catawba Riverkeeper Foundation, Carolina Raptor Center and TreesCharlotte.
Three key components of Sanchez's teaching philosophy include connecting the course's student learning objectives with her student's own professional goals, emphasizing the importance of diversity and inclusion through her lectures and classroom activities, and establishing a collaborative and active learning environment. She says that learning another language helps students embrace the importance of sociopolitical and cultural perceptions that are part of other communities as well as their own.
Award for Outstanding Teaching by a Part-Time Faculty Member
Lane Rhodes, who was chosen to the receive the award, has worked as an adjunct lecturer in the Department of English since spring 2016. She teaches the Introduction to Technical Communication course most frequently, and she also teaches a liberal studies course with the theme of literature and culture and an American Studies Program course that focuses on protest music throughout American history. Rhodes earned her master's degree in English from UNC Charlotte and her bachelor's degree in piano performance from UNC Chapel Hill.
She spent close to 25 years working in development and communications work in a variety of professional environments and draws on this background to help students grasp how class assignments relate to real-life work situations. "I want students to be confident that what we work on in class matters, is relevant, and will increase their awareness and success beyond the university experience," she says.
Rhodes has worked in collaboration with other UNC Charlotte units, such as J. Murrey Atkins Library, to facilitate a professional video conference session to bring experts from different industries into the classroom. Working with the university's Recycling Office, her students created education posters, brochures, surveys, and presentation materials related to a real-time recycling project.
"Students know the first day of any semester that my classroom constitutes a community of mutual respect (and that) we will all support each other's success," Rhodes says. "I am there to guide and facilitate student-centered learning; that model requires that all participants be responsible for learning."
In one of her classes, a literature and culture course, she focuses on the connections between literature and music. She has her students in this course read stories and novels about musicians and helps them understand the connection between music and storytelling. Her experience in teaching this course has led her to develop and teach an American Studies course on protest music throughout American literature.
"The broadest foundation of my teaching philosophy is the notion that all of life IS interdisciplinary, and in every class, I stress the importance of connecting seemingly disparate ideas," she says.
The finalist for the Award for Outstanding Teaching by a Part-Time Faculty Member is Andrew Goff, an adjunct lecturer in the Department of Biological Sciences. Goff believes that creating a lasting impression is vital for cultivating a learning environment. He promotes an open, discussion-based format in his lectures and uses polling and response-type activities to gauge their understanding and retention of the material. He also invites students to join him for creek cleanups in and around local creeks, making connections with them outside the classroom.
Teaching Professor
Also at the ceremony, Daniela Cunico Dal Pra, a lecturer in Italian in the Department of Languages and Culture Studies, was recognized for her selection as a Teaching Professor in the College. The title "Teaching Professor" is awarded to an outstanding lecturer or senior lecturer in recognition of extraordinary accomplishments in teaching and fundamental contributions to the university's educational mission.
Top photo: Award recipients Jennifer Munroe (from left), Lane Rhodes, and Sarah Pollock celebrate with Dean Nancy Gutierrez.
Words: Mary Ellen Frizzell and Banita Brown | Images: Lynn Roberson